Jai Hind College
Address :
"A" Road, Churchgate, Mumbai - 400 020 Maharashtra, India.
Tel: (91-22) 2041095
Fax:(91-22) 2886483

Jai Hind College was established in 1948 by a small band of dedicated professors of the D.J. Sind College (Karachi) who, under the dynamic leadership of Principal T.M. Advani, founded the Sind Educationists' Association for the benefit primarily of the displaced Sindhi minority.

Multi-faculty College
Jai Hind is a multi-faculty under-graduate college offering all the three streams viz. Arts, Science and Commerce, as well as a Junior College at the Higher Secondary School Level. Post-graduate admissions in M.A. (English Literature) and M.Sc. (Chemistry and Botany) are also offered. The Departments of English and Botany also enroll students for a Ph.D. (Arts)/(Science) degree respectively.
Affiliation

At the under-graduate and post-graduate levels, Jai Hind is affiliated to the University of Mumbai, which is one of the oldest and most reputed universities of the country, having been established in 1857.

At the Higher Secondary School Level, Jai Hind College is affiliated to the Maharashtra Board of Secondary and Higher Secondary Education.
Motto of the College
The motto of the college "I Will and I Can" inspires Jai Hind students to make the impossible possible, and not to feel constrained by their perceived limitations. It stresses the will to do, closely followed by the implementation of what has been willed. The one follows upon the other, the will providing the determination to do one's utmost to achieve all that is worthwhile in life.
Campus Life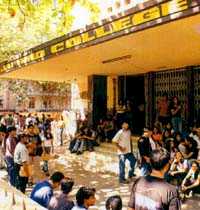 The Campus projects a wholly cosmopolitan atmosphere, with students from diverse cultures and religions of India interacting with each other. The college also has a sprinkling of foreign students from countries like Mauritius, Korea, the African Continent etc. The college also admits guest students from various parts of the world under the Rotary Student Exchange Programme. Students with physical disabilities are encouraged and provided with all possible facilities to become absorbed in the activities of the general student community.