Jai Hind College
Address :
"A" Road, Churchgate, Mumbai - 400 020 Maharashtra, India.
Tel: (91-22) 2041095
Fax:(91-22) 2886483

Jai Hind is one of the leading educational institutions of South Mumbai. Since it's inception in 1948, it has kept pace with the growing educational needs of the youth. Apart from the conventional subjects of Physics, Chemistry, Biological Sciences and Mathematics (all introduced along with the Science Faculty), new departments of Life-Sciences and Microbiology have been incorporated. The breathtaking speed at which changes in the field of science and technology are taking place requires the college to upgrade itself continually.
Vocational subjects of Electronics and Computer Science at the Junior College level, and Computer Applications and Instrumentation at the Degree College level have become part and parcel of the diversified science courses that the college offers today. These subjects have taken us a step closer to provide for "excellence with (career) relevance".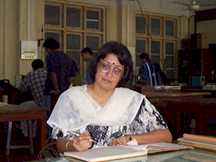 - Prof. (Mrs.) F.J. Mistry
Professor in Charge Science Faculty
To send an email to the Science Faculty, click below :